Hey guys.
This is the second post for the Spring for Music Great Arts Blogger Challenge! I have no idea who voted, but if you did, high five and thanks. If you like the post below, go to the contest page and start voting on Monday again! Voting closes Thursday at noon.
Love,
Elena
We live in an aggressively visual age; images dominate the popular culture. But which art form has the most to say about contemporary culture, and why?
Because of the internet, I am able to say what I have to say. Right now, as I am writing this, I'm able to show the entire world my opinion. It's instantaneous, free, and unfiltered. A couple of decades ago, I (and the millions of other people on the internet this second) would not be able to do this. There are even differing opinions about this blog competition (some of which I understand and agree with). Contemporary culture makes having something to say and saying it easy.
Art usually beats out the internet in terms of most effective outlets for opinions. Through all the different forms of art, perspectives are successfully absorbed. But if we are going to be talking about an art form that says something about culture, we have to be careful of contradictions.
Contemporary culture is characterized by aware and connected populations. If something happens in Tokyo, people in France will be tweeting about it in a couple of hours. #instantaneousknowledge, people. This constant sharing of information and ideas allows everyone on earth to have an opinion about pretty much everything. I mean, the internet houses everything from awesome letter archive sites to Santorum-deprecating Tumblrs. Contemporary culture also brings universal experiences. Ten people who all speak 10 different languages can be learning about, understanding, and forming ideas on the same thing at the same time.
If the culture of the entire world is jam-packed with opinions, it seems a little inappropriate to pick an art form that itself delivers an opinion on culture. That would just be another singular perspective. So, an art form that has the "most to say" about current culture would actually allow others to do the… saying? themselves.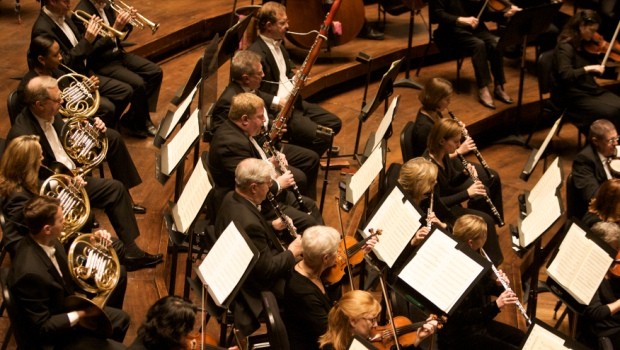 Dallas Symphony


For me, this art form is instrumental music. This term may seem broad, and you would be right. It is. It could mean Beethoven, Aphex Twin, Christian Wolff, or Oscar Peterson. But wordless music accurately reflects the attitude of our culture. It does this by allowing listeners to interpret it in completely different ways, like we do with things that circulate the web, television, or newspapers.
Instrumental music doesn't have the language barriers of lyrics. And, like the ability technology gives to experience many things by proxy, instrumental music transports everyone to similar places. It's how listeners react to those places that's different. It's impossible for two people to view one song or piece in the same way. Instrumental music is also immediate—your brain doesn't have to figure it out or translate it. As soon as music hits your ears, you feel it and understand it for yourself.
It's in these ways that instrumental music mirrors contemporary culture. For example, when the Arab Spring was in full swing (poetry, man), people from around the world were involved. People were able to read news updates every hour, express their views online, and discuss the events with others. Or take Kony 2012, the anti-LRA campaign that took off on Youtube. While everyone watched the same video and took in the same information, it sprouted countless responses, ranging from support to criticism to parodies.
Anna Thorvaldsdottir
These types of experiences are reflected in music. The Icelandic composer AnnaThorvaldsdottir released an album called Rhízōma last year. Many people have listened to this album—it's pretty awesome. Its echo-y, creepy, ghostly tones bring every listener into the same realm of dark landscapes. But each listener has a different experience. Read some of the reviews on her website. While all complimentary (one of them is mine, high-five for self promotion), they come from completely different perspectives. Some say the album is simple, others say it's challenging. Some pay attention to the details of each note, and others focus on the large orchestral sweeps.
Does this make sense? I HOPE. Perhaps an aural reinforcement would help.
Here's "Hrím." Now, perhaps someone is also on this here webpage, listening to the same piece at the same time you are. You're both in this world Thorvaldsdottir has created. But perhaps that other guy is envisioning a desert, and you're seeing the sounds in a watery way. You can experience this piece at the same time, even though you may be in different countries, but it gives you the ability to decide what it means to you.
That's pretty contemporary.
And here's a lil' drawing/painting I did to illustrate the brain connectedness that instrumental music brings. I doubt this strengthens my argument, but it shows my ability to concentrate different sections of the orchestra to singular colors, as well as my strength in the "lumpy brain" category of art.