Perfectly rehearsed fingers: check
Perfectly rehearsed fingers: check
Ok, here's something a little different.
Perfectly rehearsed fingers: for most of the piece
Flawless posture: not quite
I suppose there are definitely a lot of stereo types and strict classifications to certain types of music. Though we know not to judge a book by its cover, if someone came out on the stage at Carnegie Hall in a trucker hat and cutoff jeans, would one expect him to play as well as someone who came out in a tuxedo? The trucker might be a world-renowned pianist, but it's almost impossible not to listen with our eyes first. But on the other hand, would you be surprised to see Richter climb into an eighteen-wheeler all decked out in concert wear? Yes, you most likely said.
So these first two videos and the third seem pretty different (in terms of piano music) in appearance, right? Classical played by two female concert pianists, and Bill Evans, the legendary and immensely talented jazz pianist and his trio. "Sophisticated" concert pianists aren't expected to pull tissues out of their coats before beginning, and Evans wouldn't be anticipated to lift his hands after phrases in a flamboyant fashion. Talents like these, though both commended, aren't thought of as ones that should be mixed often. Solely classically trained pianists aren't expected to be seen at jazz clubs. Unfortunately, performers usually stay in their place. But Debussy and Evans' (and other jazz musicians') music couldn't be more similar.
Evans
Bill Evans was born in 1929 and grew up in Plainfield, New Jersey, playing classical piano, flute, and violin. He often played in jazz ensembles when he was young and went to Southeastern Louisiana University on a music scholarship (where he played Beethoven's third piano concerto). Evans has played with Miles Davis, Charles Mingus, and Oliver Nelson. He started his trio in the 60s with the original members Scott LaFarlo and Paul Motian. Claude Debussy was born in 1862 in Saint-Germain-en-Laye, France but moved to Paris when he was five. Debussy went to the Paris Conservatoire and later won the Prix de Rome in 1884 (which Ravel would go on to enter five times but never win). Although their backgrounds are so dissimilar, they both had rocky, and in Evans' case, tragic, personal lives. Like I wrote about before, Debussy wasn't exactly the most faithful companion. His daughter also died when she was very young. Evans was addicted to heroin and cocaine (he once played a show without his right hand—it was dead from the drugs, but no one noticed he was only using his left). He also had hepatitis and died due to many different causes including a bleeding ulcer.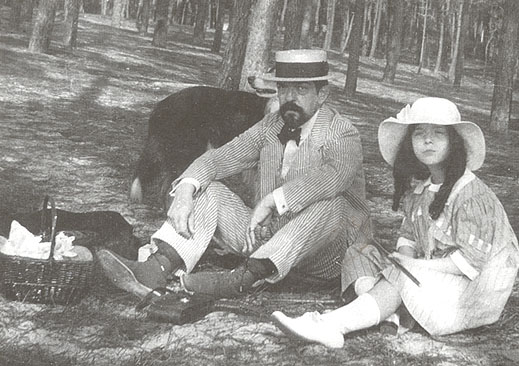 Debussy and Claude-Emma
But the most important similarity between the two was their use of impressionistic, jazzy chords. Debussy is thought of as the father of subdued and layered musical imagery, using multitudes of B flat augmented add nines and E flat minor sevens and A major half-diminished chords and who knows what else. These combinations of notes sound natural and native to Debussy's writing style. When listening to Debussy's piano music, the words "bright" and "energetic" don't often come to mind. His frequent whole tone scales give his pieces alien-like timbres that coincide perfectly with these muddled jazz chords. His piano music is the type that causes those bluesy and subtle brow crinkles and head cocks that are so often only associated with jazz. Debussy clearly influenced the jazz musicians that soon came after him.
Bill Evans is one of the many that was influenced by Debussy, but his similarities are a bit more evident that the others. While a lot of jazz consistently has upbeat snares and colorful trumpet wails, a lot of Evans' popular music is relaxing and centers more on immersing chords instead of melodic trickles (but his music still has these). His tunes are more introverted, and it suits him.
I recently picked up "Reflet dans L'eau" by Debussy to start looking at and found a passage that was so jazzy I almost had to ignore the sixteenth-note indication and play it as half notes.
If jazzy sounds can do this to us, how could Debussy (or Evans) resist?